PermaLife is a large-scale mycomaterials production project financed by the european union's life program. 
THESE INNOVATIVE ENVIRONMENTALLY FRIENDLY MATERIALS ARE MADE FROM ORGANIC URBAN WASTE TRANSFORMED LOCALLY BY THE NATURAL ACTION OF MYCELIUM.
PermaLIFE aims to respond to a double problematic of urban areas :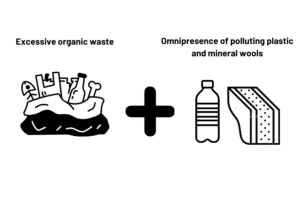 Coffee grounds, beer waste or sawdust, PermaLIFE produces innovative, circular and natural myco-materials on a large scale. They have unique characteristics that make them capable of replacing polluting plastic materials and mineral wools in the fields of packaging and construction.